ASM 12.1.2 Built-in Gutter Assembly
ASM 12.1.2 Built-in Gutter Assembly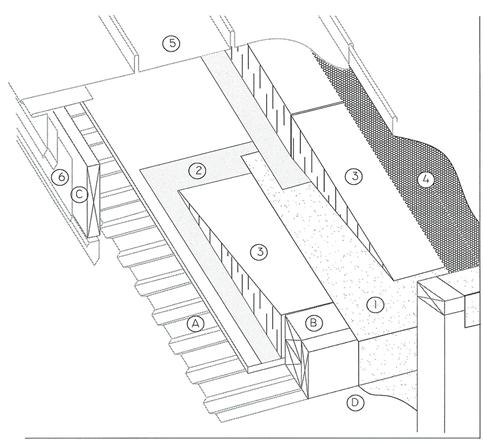 1 WORK INCLUDED
(1) Built-in Gutter Membrane: For construction details See tab 8.3, Built in Gutters for Water Shedding Roofs. For installation standards refer to Section 2.1.4, D3 Underlayment and D9 Built-in Gutters.
(2) Underlayment: The type of underlay required is determined by roof slope and material used to construct deck (sees Section 8.1.4.1 and Section 8.1.4.2) Shed onto built in gutter membrane and continuity maintained under the insulation.
(3) Insulation: Tapered crickets formed from accepted insulation set in opposition to allow membrane vapour barrier / underlayment transition seal at built in gutter membrane while providing a level surface for metal panel installation.
(4) Metal Panel Underlayment: Optional
(5) Architectural Metal Roof Panel: For accepted metal roofing panel systems refer to list in Section 8.1.2 and 8.1.3
(6) Metal Flashing: For installation procedures refer to metal panel construction drawings in Section 8.1.4
2 RELATED WORK BY OTHERS
(A) Acceptable Deck: Refer to construction requirements in Section 2.1.4, D2 Roof Decks
(B) Wood Nailer: For attachment of continuous edge hook flashing.
(C) Fascia Board
(D) Built In Gutter: Slope to Drains
NOTE: Refer to RGC Guarantee Standards for additional requirements.
WIND UPLIFT RESISTANCE OF METAL ROOFING