SBS Window Opening
SBS Window Opening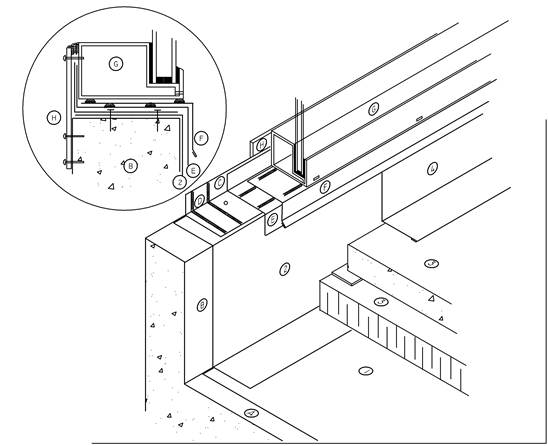 1 WORK INCLUDED
(1) Primary Roof Membrane: Installed as per RGC Guarantee Standards
(2) Membrane Flashing: Carried up walls a minimum 200 mm (8") above roof surface. At window curbs membrane flashing must be 200mm (8") in height above the top of extruded polystyrene insulation or protection/drainage layer, extended under the window mullion (fenestration assembly) and carried to the inside edge of the curb. Membrane gussets must be installed at all corners and transitions. For additional requirements refer to Section 2.1 Guarantee Standard A5.6
(3) Protection/Drainage Layer, Insulation Surfacing: Assemblies to be determined by Design Authority. Paver systems are required to have proprietary pedestals that incorporate a minimum 3mm (1/8") gap between adjacent units.
(4) Metal Wall Flashing: Required on roof assemblies using gravel ballast, filter mats and drainage mediums at insulation /curb interfaces.
2 WORK BY OTHERS
(A) Acceptable Deck: Concrete slab shown
(B) Supporting Curb: Height varies depending on the insulation thickness and type of roof assembly.
(C) Metal Water Stop Flashing: Mechanically attached to the top of the window curb. Cut flashing to fit the opening and pan fold, weld, or solder seams at all corners and mitres.
(D) Metal Water Stop FlashingSeam: Overlap metal water stop joints a minimum of 150mm (6") and seal joints with two rows of structural sealant.
(E) Building Envelope Membrane Flashing: Must be compatible with and overlap the roof membrane flashing. Membrane gussets must be installed at all corners and transitions.
(F) Metal Cap Flashing: Adhere metal cap flashing to membrane flashing with a membrane compatible structural sealant. Mechanical attachment of metal flashing through the membrane flashing is not acceptable.
(G) Fenestration Assembly: CAUTION – Securement fasteners MUST NOT penetrate the metal or membrane flashing.
(H) Fenestration Assembly Securement Bar – ONLY fasten securement bar through upper vertical leg of the window mullion (frame).
NOTE: Refer to RGC Guarantee Standards for additional requirements.
---
Back to SBS Construction Details